One of the best ways to keep your AC running well this summer and avoid costly and untimely breakdowns is to get professional AC maintenance in Covington, GA. A good air conditioning company offers maintenance plans to ensure your HVAC system gets the tune-ups and other services necessary to help cut down on repairs and extend the lifespan of your system. Here's why you should consider enrolling in a maintenance program.
Fewer Repairs
Keeping your HVAC system well-maintained means that you'll need fewer repairs, especially when it comes to emergency repairs. A typical maintenance program includes two yearly checkups: one in the fall for the furnace and one in the spring for the AC. During this inspection, the technician makes any necessary adjustments and looks for any potential problems that could quickly turn into a major repair. While you may need some additional repairs following a maintenance visit, it's less likely that you'll need repairs in between these tune-ups and inspections.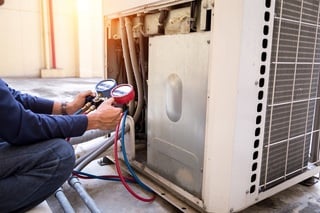 More Effective Heating and Cooling
 When your HVAC system is properly maintained, it's able to heat and cool your home more effectively. That means it can run for a shorter period of time and still get your home to your desired temperature. A more efficient unit means your AC will have less wear and tear as well.
Lower Energy Bills
An advantage of a more efficient system is that you'll save on energy bills. A sure sign of an AC that hasn't been well maintained or that needs to be repaired or replaced is higher energy bills. Since your AC won't have to work as hard to keep your house cool, you'll be able to save money on your monthly energy bills.
Longer Lifespan
Less wear and tear on the AC means that it will be able to last longer as well. AC units are designed to last between 10 and 15 years; however, many people are able to have their units last up to 25 years when they keep it properly maintained. Part of good maintenance requires you to regularly change filters and keep the thermostat at the optimal temperature setting, but professional maintenance significantly improves the life expectancy as well.
24/7 Service
In addition to all the benefits for your HVAC system, you'll receive personal benefits of enrolling in an AC maintenance program as well. One of these benefits is that as a member, you'll be entitled to priority service when you need repairs. You can be sure that a technician will be available 24 hours a day, seven days a week, to make sure your heating and cooling needs are met.
Documentation
Some warranties may require documentation of regular service. A maintenance program will provide the required maintenance as well as the documentation in case you ever need to use the warranty.
Convenience
Enrolling in a maintenance program is less hassle for you. You won't have to worry about when your last tune-up was or when to schedule your next. The appointments will be scheduled ahead of time, and you'll receive a reminder as it gets nearer.
Discounts
Another benefit to consider is the discounts. Many HVAC companies offer a discount to members for repairs on both parts and labor. This is valuable because although regular tune-ups and inspections will decrease the amount and severity of repairs, it's inevitable that some repairs will be needed as your unit ages. A discount as a valued customer can be extremely helpful when you do need AC repair in Covington, GA. Call Triad Mechanical to learn about their maintenance program today.