When you're in the market for a good AC repair company, it should take more than just proven experience and technical know-how to win your business. After all, you'll be letting AC technicians into your home, so there must be a level of customer service and trustworthiness that may not be required in all service professions. Whether you need a company to provide AC installation or AC repair, it's important that you find an AC company in Dacula, GA, that can offer you honesty, quality service, professional ethics, and attention to detail.
Fortunately, there are plenty of reputable companies in the HVAC market who will be vying for your business. While not every AC company is worth your time and money, there are some traits you can seek that are commonly found among the best in the business. By learning what qualities to look for when hiring an AC company, you can increase your odds of a satisfactory experience when you allow technicians into your home. Keep reading to learn what qualities an AC repair company should possess in order to earn your trust and your business.
Technical Knowledge
 When you call a company to provide service for your HVAC system, it's because you need a complex skillset, detailed training, and the proper equipment to make AC repairs. Otherwise, everyone would take a do-it-yourself approach to AC work. Therefore, it's important that you verify that the technicians from the company you hire are skilled and well-trained. It's not enough that they were certified once many years prior, as AC technology and best practices have evolved over the years. Your techs should receive continual training to stay abreast of industry trends. Make sure the company invests in its employees with routine training and continuing technical education.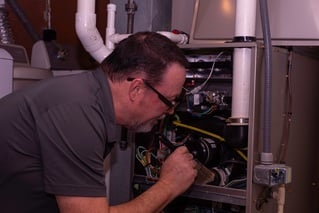 Professionalism
While it may go without saying, it's important that the technicians representing the companies you're considering conduct themselves in a professional manner while on your property. You'll be letting them into your home, which will put them in contact with your family. Therefore, there's a zero-tolerance policy for unprofessional behavior, so make sure that the company upholds a high standard for professional ethics. Avoid companies that tolerate foul language on job sites or overlook menacing or reckless behavior. The behavior of the technicians should put you at ease, and they should be respectful that you've allowed them into your home to perform HVAC service.
Excellent Customer Service
Regardless of the field, customer service is critical, and as the customer, you have a right to demand it from those you hire to perform HVAC work at your home. You want a company that will do the little things to make you feel as though your business is appreciated. For example, that could mean steps are taken to protect your carpet and other property while work is being performed. It could also include quick, thorough communication and prompt responses to emergency situations and questions about the system. You deserve to have an AC company that is willing to go beyond the norm to win your business and do what it takes to keep it.
Clear and Reasonable Pricing
It's important that your AC company offers you a transparent pricing and honest descriptions of services rendered for projects, both large and small. Providing minimal invoices that lack detail doesn't breed trust, so it's important that the company you hire for AC work provides you with a detailed accounting of costs and answers any questions you may have in a respectful manner. Watch out for hidden charges and fees, as some AC services use those as a way to pay their invoices and drive the cost higher. You should be able to see what you're being charged, so don't settle for anything less than clear, fair pricing.
If you're in the market for a company to provide AC installation or AC maintenance in Dacula, GA, make sure you look for the qualities above to ensure you get the best possible service. To learn more about the traits you should seek in a good AC repair company, contact Triad Mechanical at (770) 682-0075.