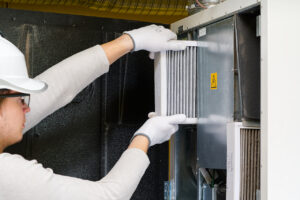 It's that time of year again when you need to start thinking about how well your furnace is working. The cold air is creeping in and your blankets aren't enough to keep you warm. If your furnace is not up to the job, you may be considering replacing it with a new one. But how much does a new furnace cost?
The cost of purchasing and installing a new furnace varies significantly based on multiple factors. Let's dive in.
The Average Cost of a Cozy Furnace
On average, a new furnace costs between $1,500 and $6,500, but according to This Old House, it has a lifespan of 20-30 years — making it well worth it. This range covers the cost of both the unit and professional installation. If that seems too steep a price, however, you'll find furnaces on the lower-end with basic features such as single-stage operation, an 80% efficiency rating (AFUE), and no additional features.
On the higher end, furnaces can come with two-stage operation, a 95% efficiency rating, and additional features like variable speed blowers or upgraded filtration systems. These will cost more upfront, but has potential to save you money in energy costs down the line.
It's important to note when asking "how much does a new furnace cost," that the price of installation for a furnace is rarely included in its purchase total. While the actual amount of an install can vary significantly, a quality installation from a licensed professional is based on their specific service package plans– making it an additional expense to consider when replacing your existing furnace.
Benefits of Professional Installation. Spoiler Alert: There's Lots of Them
A properly installed furnace ensures that your system maintains optimal performance throughout its lifespan, and this service is worth it for how much a new furnace costs. Installing a new furnace without professional help can be dangerous and inefficient, so it's worth spending the extra money on a professional company, or else you risk consequences like:
Poorly installed wiring that can be a severe fire hazard

Compromised airflow due to incorrect ductwork installation

Poor efficiency and inadequate heat output

Shortened lifespan of the furnace
A licensed technician will know how to safely and correctly install your furnace, check for gas leaks, and set up any additional features – ensuring that you get all the benefits of your new system. Their professional process will also help you avoid unnecessary repairs down the road, so you'll be getting a bang for your buck.
Whether you choose a lower-cost model with fewer features, or invest in a more efficient system with better aspects, getting it professionally installed is essential for ensuring optimal performance and a long lifespan. Your furnace is an important part of your home, and the investment in a new one can pay off in energy savings and greater peace of mind.
Keep Warm with a Reliable Service Like Triad Mechanical
At Triad Mechanical, we provide a full range of furnace installation and repair services for your home or business. We value transparency on how much your new furnace costs, including the installation. Our certified technicians are here to make sure your heating system runs efficiently and reliably all year round.
Ready to prepare for the storm? Contact us today to learn how we can help with your new furnace installation and any other HVAC needs!