When your air conditioning system breaks down, you need to call on reputable professionals who can provide timely, effective repair services. Choosing an AC repair company in Suwanee, GA, requires you to do your homework and know what services you need. While there are plenty of businesses that would be thrilled to earn your business, you shouldn't hire a company until you know what they're capable of. HVAC systems are complex, so working with experienced professionals is an absolute must. Hiring an inept AC repair company not only fails to mend your air conditioning issues properly, but it also means you'll have to pay for additional maintenance services down the road. Saving money where you can is likely one of your priorities, so calling on a company that will fix your AC issues the first time around is of the utmost importance. Here are the most important factors to consider when choosing the best air conditioning company in Suwanee, GA.
Ensure They're Certified
When speaking with an AC repair company, ensure they have the proper certifications and licenses. This is an easy way to narrow down the field of credible HVAC maintenance providers in your local area. If a particular business doesn't have proper licensing or certification, you can cross them off your list. Reputable contractors will have no problem showing you their credentials, as it demonstrates their ability to provide quality work. Calling on AC repair services backed by the proper credentials will give you peace of mind knowing your system is in good hands.
Price Isn't Everything
You may be tempted to hire the cheapest AC repair company you can find, but know that you'll likely get what you pay for. This means that incredibly affordable repair services will likely result in subpar work, while a company that charges a bit more can be trusted to deliver quality results. Ideally, you'll end up striking the perfect balance between affordable services and professional-grade work.
Know Their Capabilities
It's crucial that you understand what AC repair services you require before hiring a company. Once you know what AC issues you're dealing with, check to make sure the company has experience in fixing similar problems. If you're mainly concerned about the cleanliness of your air ducts, find a business that specializes in air duct cleaning services. If you know your evaporator coils need to be replaced, call on professionals that will be able to install new ones correctly. Learn what any given HVAC company is capable of before hiring them for assistance.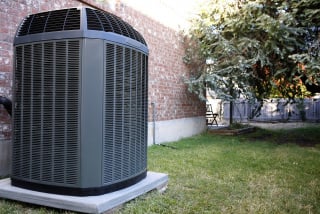 Check for Warranties
If an unforeseen accident occurs while your AC repair experts are on the job, you want to ensure you're not paying for the resulting damage. A company that offers a 100% satisfaction guarantee can be trusted to provide stellar work. Many HVAC businesses offer protective warranties, which means you'll receive continued support in the event your air conditioner requires repairs down the road. A warranty or satisfaction guarantee can reassure you of the repair services being provided.
Whatever the issue may be with your air conditioner, you can trust Triad Mechanical to provide timely, effective repair services. Our team of experienced professionals is well-suited to handle any HVAC issues. Contact us today if you need assistance!