If you've ever experienced an air conditioner breakdown in the middle of the summer, you know just how unpleasant and uncomfortable that can be. Many modern homes aren't built for natural ventilation and instead rely on the HVAC system to keep things cool inside. When your AC goes down, you may find yourself steaming inside your home until an air-conditioning company in Monroe, GA, can respond to your call for help.
Though there are many providers of heating and air-conditioning repair who will respond around the clock, during the busiest times of the year, there may be a period of waiting before help can arrive. That means you'll need to know how to handle a broken AC while you hang on for assistance from a repair service. Keep reading to learn a few tips that can help you best handle the prospect of an AC breakdown during the hottest time of the year.
Keep Your Cool—Figuratively
While it may be tough to keep your cool when your AC unit goes out during the summer months, that doesn't mean you can't keep your cool, figuratively speaking. That means staying calm and refusing to panic, which is important in any crisis. And when your AC fails in the summer, it definitely constitutes a crisis. Don't jump to conclusions and assume there's a catastrophic reason that your AC isn't working. Instead, take time to check a few simple causes of AC failure that you can remedy without assistance. If you have a programmable thermostat, make sure that the settings are accurate, and the batteries aren't dead. Next, head to the breaker box. Is the AC breaker flipped? If so, you should probably have that issue checked out by a pro eventually, but you can reactivate your AC in the meantime to keep cool.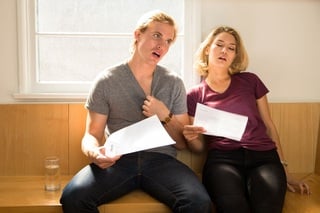 Call the Pros
If none of those causes seem to be at fault, your next step is to call your air conditioner repair service of choice and schedule the soonest possible appointment. During the summer, AC companies are traditionally working at a frenzied pace, so it's important that you get in the queue as quickly as possible to ensure timely service. Don't attempt to perform a do-it-yourself repair on your AC system. While you may think that you can handle it, amateur AC repairs can result in injuries and extensive damage to your system. It's best to leave it in the hands of a trained HVAC repair technician. If the company you call offers 24-hours-a-day, 7-day-a-week service, you may be able to get them to come sooner by paying a premium. However, that cost may be insignificant when your home is baking in the summer heat.
Cool Your Home the Old-Fashioned Way
In the days before universal AC, homes were designed and built to allow maximum ventilation to keep inhabitants as comfortable as possible. Breezeways, screened windows, attic fans, and other design elements were incorporated to allow homes to cool naturally with the help of the latent breeze. However, modern homes are reliant on their HVAC systems for climate control, so many of those naturally cooling techniques have been abandoned. That doesn't mean you can't cool your home somewhat when the AC breaks down. You may want to open the windows, but it's best to avoid doing that during the day because humidity will come in and make the air unbearably sticky. Open windows at night to cool the house down. In the daylight hours, it's better to use fans for cooling, pull curtains and drapes tightly to limit the ambient heat from sunlight, and stay hydrated. Take a cool bath if you feel that you're becoming overheated. Better yet, leave during the day for cooling locations such as malls, stores, and parks.
When your air conditioner breaks down, it's important to call upon assistance from AC repair services in Monroe, GA, to get your system up and running as soon as possible. In the meantime, do whatever it takes to stay cool while you await their arrival. If your AC has broken down, contact Triad Mechanical at (770) 682-0075.