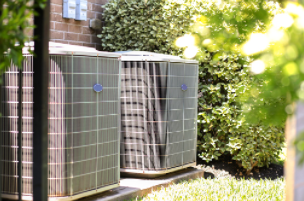 Most of us aren't too familiar with how our AC units function. The goal is to cool our homes and that's all we need to think about, right? While this gets you by, it doesn't help you understand how your unit fits into your life. We always recommend reading up on your options. This gives you the tools and knowledge needed to make the best choice for your home.
Difference Between Single-Stage and Two-Stage Air Conditioner
The first part of this to understand is the "stage". This refers to the operating mode of your air conditioners compressor. This compressor is what helps the unit cool your home.
A single-stage compressor turns on and off depending on the temperature of the house. When it gets too warm, it turns on, blasts the house with cold air, and turns off once the temperature is reached. There is only one level of operation for these units which means anytime it turns on, it is running at 100%. This is a cost-effective option for those on a budget and is the cheapest to purchase and have installed in your home.
A two-stage air conditioner works on two modes, a low operating mode and a high operating mode. The high operating mode behaves similarly to a single-stage unit, working at 100% capacity whenever it turns on. However, most of the time will be spent in the low mode which only runs at about 60 to 70% capacity. This allows the unit to save energy when the demand for cooling is small. This saves your air conditioner from working as hard and leads to less wear and tear on the unit along with better temperature control.
Variable-Speed Air Conditioners
A third option that isn't always thrown in the mix is a variable-speed air conditioner. These are the most energy efficient and can decrease or increase its capacity depending on what is needed. These are sensitive systems that can fine tune your home's temperature within 0.5 degrees. They run continuously and are efficient with dehumidifying, so you'll notice higher levels of comfort and lower utility costs.
Factors to Consider
Budget- There is a difference in cost for each type of air conditioner. Those with a stricter budget might consider a single stage air conditioner over a two-stage or variable air conditioner. However, if you plan out your finances ahead of time and have a good understanding of what you're looking for, it is still possible to get the unit you're hoping for through Triad Mechanical's financing options.
Location- Where you live can also impact your decision-making process. For example, those living in places with higher humidity benefit more from a two-stage air conditioner which is better at dehumidifying than a single-stage unit.
Partner with a Professional
At Triad Mechanical, we are experts in all things HVAC. We provide heater and air conditioner service to customers near and around Lawrenceville, Georgia. Our clients trust us because we stand behind our work. We are committed to making your home comfortable and your HVAC in good shape. Call us now at (770) 682-0075 with any questions!