Everybody needs air conditioning repair at their home or business from time to time. At the very least, some of their components, like the refrigerant and filters, need to be replaced from time to time. You should also be hiring an air conditioning service to tune up the system at least once a year. This has been shown to prolong the life of your air conditioning unit.
References
Good references matter. When looking for an AC company, take time to read reviews from online sites and follow up with references. A quality AC service business will never mind giving potential customers references to call. Many people don't check references when they're calling for emergency AC repair and don't have the luxury of time to make these calls — that's why it's important to begin your search before you need a repair.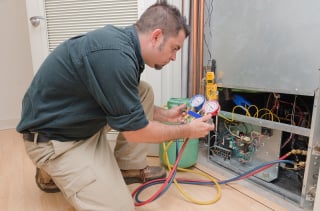 But hiring the wrong air conditioning service can be as bad as trying and failing to DIY the work. You'll spend money on futile labor and could even see small problems get worse.
So what's the wrong kind of AC repair specialist? These include amateurs, untrained individuals posing as technicians, as well as overpriced or rushed services that don't put your needs first.
You may now feel hesitant to hire an AC repair specialist next time your air conditioner needs repairs or maintenance. However, trusting a professional is much more cost effective and safer than trying to DIY this work. All you have to do is make sure you hire the right specialist.
Here's how you do it. Find a list of AC repair companies in your area, then ask every single one of them the following questions.
What Training and Experience Do You Have?
A good AC repair service will gladly answer this question. Don't proceed further with anyone who scoffs at this question or refuses to answer it. Only trust an AC repair team that staffs trained, certified, and experienced technicians. This means that they are true professionals that have a combination of classroom learning and hands-on apprenticeship experience. In other words, they're actual pros, not people who think they're handy with an air conditioner.
Ensure that the company has a long reputation in the business and has several satisfied customers. Find each company's website, and you should see reviews posted.
Is Your Company Licensed and Insured?
This question verifies the company itself. Here's the thing: people can lie to you. Just because someone says, they'll send you a trained technician doesn't mean that you'll get a trained technician. However, you can't lie your way into licenses and insurance. These designations are only offered to companies that have submitted proof of technician licenses and are authentic businesses in good standing. Licenses give companies authorization to work in your city. Insurance, meanwhile, covers workers and omits you from any responsibility should employees be injured during maintenance and repairs on your property.
Every AC repair company should be able to present a copy of their license. Read it over to verify that it covers your state and is currently active.
What Is and Isn't Included in a Quote?
When you get a quote for repairs and services, don't forget this important question. Some quotes will leave out the cost of labor, minor parts like valves and safety switches, and permits. Ensure that you get a cost breakdown that includes all possible charges before agreeing to services. Also ask about the cost to get permits for certain services, including installation. Some services must be authenticated and allowed with a permit, without which you can be liable for fees.
Note that some companies may only offer a loose quote and will recommend that they inspect your air conditioner first. This is a good sign. A good repair team will want to get their eyes and hands on the appliance and do a few routine checks before giving you a quote.
Do you want to get the best-quality, most reliable services on your air conditioning system in Suwanee, GA? Go straight to triadmechanical.com. Triad Mechanical Service Specialist LLC will gladly answer these and any other questions you may have. That's because they put your needs first.