So, you're considering purchasing a smart thermostat – or you already have – and are not sure how to install it. This step-by-step guide will walk you through the smart thermostat installation process, and if you still need help Triad Mechanical is here to help!
Before You Get Started
Getting a new Bluetooth thermostat is exciting, but before you dive right into the installation process there are a few things you need to have in order. First, you need to be sure that your smart thermostat works with your AC unit and existing wiring. Some smart thermostats will not work with two-stage heat pump systems, so confirm that yours is compatible and does not need additional wiring like a C-terminal.
1. Turn Off Your AC Unit
The first step to installing your new smart thermostat involves shutting off your AC unit. Turn it off at the breaker panel, so that there is no risk that you will accidentally short the electrical components of the system. Turn the system off at the thermostat as well and listen to be sure that your system is not actually running.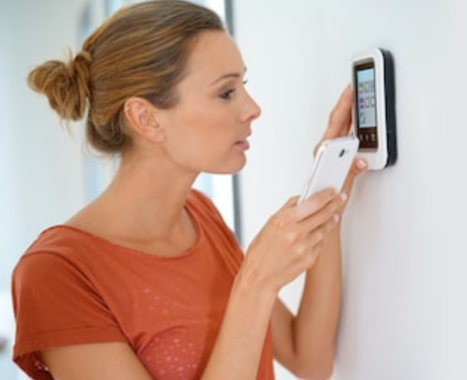 2. Remove the Faceplate and Backplate
Next, you will have to remove the faceplate and backplate from your old thermostat. With a bit of effort, this should pop right off of the wall, but don't force it since there may be some hidden screws holding it in place! Once you have removed the faceplate, take a photo of the wiring so you know which wires connect to which terminals on the thermostat. If your new Bluetooth thermostat came with wire labels, be sure to use them before you disconnect the wires. Now you must remove the backplate, which typically requires a screwdriver to remove the screws holding it in place. At this point, you may need to add a C-wire if your system does not already have one, since it is generally required to provide power to your smart thermostat.
3. Install the New Backplate and Reconnect the Wires
The third step is to secure the new thermostat's backplate onto the wall. Make sure that you pull the wires through the new backplate before you screw it into the wall! After it has been securely attached, connect the wires to the new terminals on the smart thermostat. Use the photo you took for guidance, or the labels you attached in step number 2.
4. Set up the New Faceplate and Connect to Wi-Fi
The last step in how to install a smart thermostat is to set up the new faceplate and connect it to Wi-Fi. Now that the wiring is connected you should be able to simply snap the new faceplate onto the wall – be careful to tuck the wires back into the wall before forcing the faceplate on. As soon as the faceplate is in place, you can turn on your HVAC breaker. This should kick the power back on and allow the smart thermostat to boot up. Turning the system on will likely lead you to a series of prompts that will walk you through connecting to Wi-Fi and setting up the app on your smartphone. These steps will vary depending on the type of smart thermostat you chose, so be sure to follow those instructions accordingly.
Now you should be all set!
Or Skip These Steps and Let Triad Mechanical Install It For You!
If you have any trouble understanding how to install a smart thermostat, let Triad Mechanical do it for you! The worst thing that could happen is that you damage your HVAC by shorting it out – something that will cost a lot more to fix than having a professional install your new smart thermostat.
At Triad Mechanical, we offer comprehensive HVAC services including thermostat installation – we are the local experts in Georgia, so give us a call today!