Choosing the right HVAC systems for multi-family buildings can be a challenging and overwhelming process, especially if you're purchasing one for your property for the first time. With the array of options and sizes on the market, you might have difficulty settling on a particular system.
Choose wisely, as your choice of a multi-family HVAC system for your property is a long-term investment. You want a system that can meet the heating and cooling needs of dozens of families. In this post, we'll discuss a few tips to keep in mind when choosing the right HVAC system for your rental property.
Peak Load Flexibility
It isn't easy to accurately estimate the peak energy needs of a multi-family complex. That's why you need to invest in a unit that can withstand various peak energy loads. A system with peak load flexibility gives you peace of mind knowing that it can handle what the weather brings and meet your tenant demands.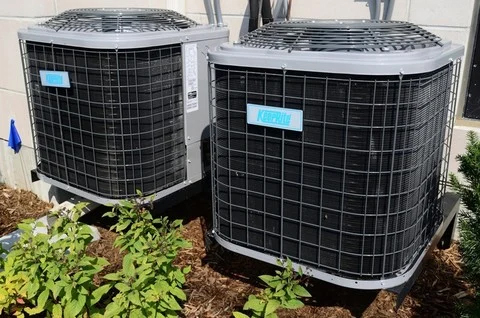 Individual Comfort Controls
Tenants, above all, want control over their own comfort. For that reason, consider investing in a system that provides individual comfort controls. Everyone has different preferences, and expecting every tenant to be happy with the same comfort settings may not be realistic.
Ease of Maintenance
Routine maintenance helps to keep your unit in top shape. And when it comes to larger systems, preventive care is even more critical. Choosing a system that's easy to maintain with regular HVAC service will lower your system running costs. You will also save money in the long run if parts are cheaper and easier to obtain.
Centralized and Decentralized Systems
Centralized HVAC systems work to heat or cool the entire building from a central location (typically the basement or mechanical room). That gives the owner greater control over energy costs but makes it challenging to achieve comfort control for all tenants. Owners of larger properties prefer centralized systems due to the cost and energy savings (beyond a certain number of households, it's more expensive to install individual HVAC units than a centralized system).
Decentralized HVAC systems, on the other hand, consist of separate heating and cooling systems designated for each building unit or family. These systems are more cost-effective to install and allow for individual unit control, metering, replacement, and service. If properly installed, a decentralized system arguably results in safer, more comfortable, more energy-efficient, and more durable buildings with better indoor air quality.
Common types of centralized systems include:
Hot water baseboard
Two-pipe systems
Geothermal systems
Four-pipe systems
Common types of decentralized systems include:
Electric baseboard heat
Self-contained systems
Packaged thermal air condition
Wall unit A/C
Ultimately, the multi-family HVAC system you choose will set the standard for the building's efficiency, but you can also take several steps to help boost efficiency. For example, improving the building's insulation can reduce the system's overall heating and cooling load. Properly sealing the ductwork can also instantly optimize the system.
If you have or need a multi-family HVAC system, our Triad Mechanical team is prepared to help you. Our expert installers have extensive experience working with a wide range of HVAC systems and performing HVAC services. Call (770) 415-5738 today to book an appointment. We are located in Loganville and Lawrenceville, GA, and proudly cover over 30 service areas throughout the state.