Furnaces are available in a variety of sizes, operational methods, energy output and input, and price ranges. Homeowners usually try to find the cheapest as well as the most effective furnace, especially if they're purchasing a new home, too.
The Overall Price Breakdown
The average budget for a high-efficiency furnace installation or replacement can reach as high as $10,000. However, homeowners usually aim a bit lower and often don't pay more than $6,000 or so. The typical price for most domestic furnace installations starts at as little as $1,000. The average cost is somewhere around $4,000.
The cost to replace the furnace, or to install a new one, is accompanied by additional costs of labor, equipment, consultation, and sometimes a permit for installation as well. However, as much as half to two-thirds of your total budget will be spent on purchasing the unit alone. Labor costs might make up around 10% to 25%, while additional costs are an exception and aren't always necessary during installation.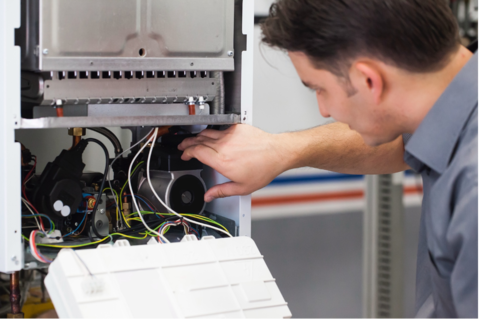 Furnace Removal Prior to Installation
When getting rid of an old furnace, you have two options:
First, you can phone around in your locality and invite component buyers to purchase parts of the furnace from you for around $50. However, if the old furnace isn't in decent condition, some parts might not attract any buyers at all.
Other than this, you can seek out professional disposal services, which can cost you as much as $500, but this approach ensures that your furnace is removed as a whole and disposed of safely.
New Furnace Cost
A new furnace can be found in a variety of price ranges, but it mostly depends on the BTUs you want, the efficiency you prefer, and the total livable space you wish to cover with the furnace. For starters, let's look at the price figures for brand new furnace units:
High-Intensity Infrared Heaters and Electric Furnaces: These are available for as low as $500 and as high as $3,000. However, they do have their limitations in efficiency and modes of function, thus are good only for low budget installations.
Gas Furnaces: Gas furnaces may cost you anywhere between $900-$5,000. They are available at higher prices, too, if you're looking for improved efficiency.
Oil Furnaces: Oil furnaces cost slightly more than gas furnaces. Their price range varies from about $1,800 to $6,000.
Coal Furnaces: Can cost anywhere between $3,000 and $10,000. They're more expensive than the rest of the fossil fuel furnaces but offer much better performance.
If you're looking for environmentally safer and greener options, you might consider other types of furnaces, such as:
Geothermal Furnaces: A geothermal furnace is placed at the higher end of the spectrum. These can cost you anywhere between $2,000 to $20,000. The prices can go further than this if you decide on purchasing additional integrations.
Solar Furnaces: Solar furnaces are the most expensive. Their prices start at $15,000 and go up to $30,000.
If you have any more questions about new furnaces or your HVAC system in general, reach out to Triad Mechanical Service by calling (770) 682-0075!