Regular air conditioner maintenance and cleaning are essential for keeping your unit in top shape. When the condenser coils, fins, and filters are clean, your air conditioner will keep your house cool and your family comfortable.
If you're wondering how to clean air conditioners, here are a few steps that professionals follow when cleaning AC units.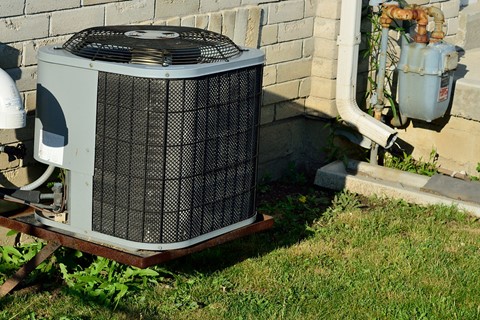 How to Clean Air Conditioner Units like a Pro
Step 1: Turn Off the Power Supply
Before you start cleaning your AC unit, turn off the power. Cleaning your air conditioning while it is on is dangerous and may endanger your health or the system's coils and fins.
Step 2: Replace or Clean the Filter
Your AC unit has reusable or replaceable filters in the air-handler cabinets or furnace. If you want to maintain proper airflow in your home, it is essential to replace or sanitize the filters every six months (or when they become clogged with dirt and debris).
Step 3: Sanitize the AC Condenser Coils
Before you start with coil cleaning, remove the top and side panels from the AC unit. Use a nut driver or screwdriver to unscrew the panels and pull them away from the unit. Carefully lift the top and avoid pulling any wires or cables. Use a soft brush or a coil cleaner to clean the coils from the outside. You need to be very careful when cleaning the condenser unit and the coils because they have delicate parts that you may easily tug. If, by any chance, you bend the fins, use a fin comb to straighten them. Don't forget to clean and vacuum the condenser unit from the inside!
Step 4: Clean the Debris from the Condenser
Be sure to remove debris, grass clippings, and leaves to avoid blockage in the filter or the condenser's base. For the blower's blades, use a rag or vacuum to clean it. Apply a few drops of oil into the ports (only if the motor has oil ports) and mop up any excess water. Remove any twigs or weeds that may reduce airflow through the outdoor unit.
Step 5: Check the Refrigerator Lines
You will find the refrigerator lines covered with insulation, which spreads from the evaporator coils to the outdoor condenser. If the insulation shows damage, replace the foam with a new one to improve your air conditioning system's performance.
Step 6: Run Your Air Conditioner
Next, turn the power back on and activate your AC unit.
Benefits of Professional AC Cleaning
Only through regular inspection and cleaning by a professional HVAC service provider will you eliminate all AC issues and ensure that your unit runs smoothly throughout the cooling season. Here are some of the benefits you'll enjoy with professional AC cleaning:
Professional teams have the right tools and equipment
Professionals know how to clean all brands and models of air conditioner units correctly
Professionals can detect early AC problems and suggest a quick repair
Call Triad Mechanical for AC Cleaning
If you are looking for a qualified professional service to clean your air conditioner or help you with any other HVAC needs, Triad Mechanical is the right crew for you. Get in touch with our HVAC specialists today at (770) 415-5738. We have over 30 service areas across Georgia, and we are located in Loganville and Lawrenceville, GA.