A functional heating system ensures you stay warm in the cold seasons when it's frosty outside.
Unfortunately, using the heater round-the-clock without proper maintenance will put undue stress on it. This results in the system developing all sorts of issues.
Your only warning could be to wake up in the middle of the night with cold feet or worse. If that happens, an emergency heating repair service will be your saving grace. Today, we're going over some common HVAC heating emergencies, what can cause them, and emergency heating services.
List of Common HVAC Heating Emergencies to Keep an Eye Out For
With a dirty or clogged air filter, airflow is reduced, making the furnace work harder to circulate air. Damages may limit the switch, which controls the fan.
Wear and tear can cause airflow problems and heat control-related problems or even overheating.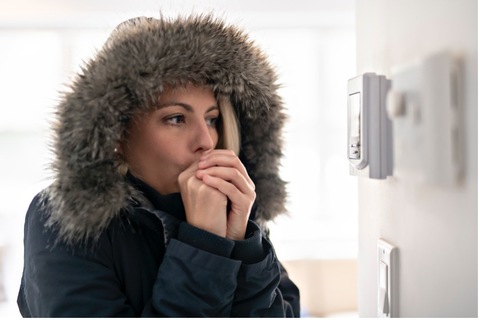 Routine inspections can help the appliance run more efficiently and reliably. A lack of these inspections, however, can result in problems running unchecked.
The furnace doesn't heat at all
A furnace that doesn't perform its main task may have problems with the thermostat setting, power, gas, or the pilot light.
Malfunctioning thermostat
A faulty thermostat will lose its connection to the heating system and interrupt the service. It could be as a result of simple power problems or more serious wiring issues.
Electric ignition or pilot control problems
A faulty ignition or pilot could make it difficult to heat a home or commercial space, while thermocouple problems, drafts, or clogs in the appliance may result in an unlit pilot light.
The furnace doesn't heat enough
A furnace may not produce enough heat if it's the wrong size for the room. It could also be the result of a clogged filter.
Rumbling, squeaking, and rattles aren't normal. The sounds may indicate a mechanical problem, airflow reductions, or a clogged burner.
Cycling between the "On" and "Off" modes may indicate a clogged filter, improper airflow, or a bad thermostat setting.
The blower continuously runs
An emergency heating repair professional may need to replace blower issues, which may indicate a problem with the limit switch.
These 10 heating emergencies are good to look out for. If you encounter one of these, you may consider trying some of the fixes below, including calling an emergency heating repair service.
What to Do
When it seems your furnace is void of heat, the battery level of the thermostat needs to be checked.
A multitude of problems are incurred when the air filters are dirty. While it's advisable to clean the filters, replacing them once a month or according to the manufacturer's directions is the healthiest approach.
Hire a repair specialist, annually, at the end of the summer or at the beginning of the fall, to inspect and maintain the furnace. The professional will prepare the unit for the upcoming cool weather and fix problems that could prevent a breakdown during the winter season.
When the situation is beyond your control, it's important to leave it to capable hands, trained in emergency heating service.  Never hesitate to contact a trained HVAC contractor or emergency heating repair service.
Do you need a reputable HVAC service company to get that faulty furnace going? Talk to us at Triad Mechanical.
We offer residential and commercial HVAC service, including emergency heating repair, in Loganville, GA, and nearby areas with a team of experienced professionals. You can trust us for exceptional business and HVAC repair, installation, or maintenance. Call us today or any time you have an emergency at 770-682-0075!