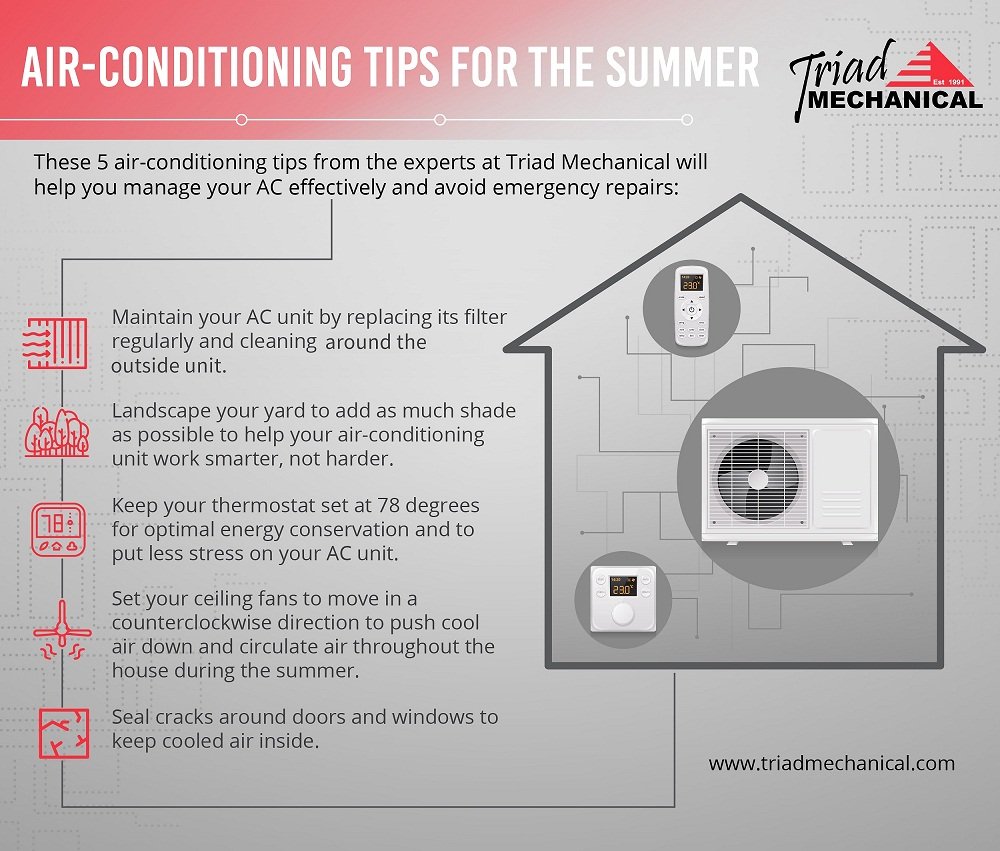 When summer temperatures heat up, you want to make sure your air-conditioning is working well. All it takes is a small problem to create big problems. Luckily, this doesn't have to happen to you. These 5 air-conditioning tips from the experts at Triad Mechanical will help you manage your AC effectively and avoid emergency repairs:
Maintain your AC unit by replacing its filter regularly and cleaning around the outside unit.
Landscape your yard to add as much shade as possible to help your air-conditioning unit work smarter, not harder.
Keep your thermostat set at 78 degrees for optimal energy conservation and to put less stress on your AC unit.
Set your ceiling fans to move in a counterclockwise direction to push cool air down and circulate air throughout the house during the summer.
Seal cracks around doors and windows to keep cooled air inside.
Although AC maintenance might seem like one more thing to put on your to-do list, it's the best way to extend the life span of your air conditioner and avoid unexpected breakdowns. At Triad Mechanical, we make it easier for homeowners to maintain their air-conditioning units by offering quality professional maintenance services. Homeowners who take advantage of our maintenance services enjoy increased system productivity, lower energy costs, extended equipment life spans, and lower repair costs. Triad Mechanical is a family-owned and -operated HVAC company serving residents of North Georgia. To learn more about all of our services, visit our website at https://triadmechanical.com.