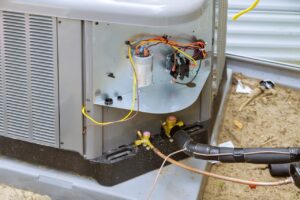 Imagine it's the middle of a freezing winter and your heater is broken. Or maybe it's the excruciating heat of summer and your air conditioner decides to start malfunctioning. In these extreme circumstances, you need an HVAC service to come and fix the problem immediately so that you can get back to comfortable living.
But while in your time of need, how do you know which company has the right features, speed, and services for you? The company you choose for your 24 hour HVAC repair can greatly make or break your experience, so you want to ensure that the company servicing your home is professional, reliable, and knowledgeable.
1. 24/7 Availability
When it's the dead of night and you need a technician to come out, 24/7 availability can feel like a miracle. Finding a service that offers 24 hour HVAC repair is essential to your comfort and convenience.
At Triad Mechanical, we understand the importance of a 24 hour HVAC repair. Emergencies happen, and we're ready to assist you with your repair needs at all hours of the day or night.
2. Transparency
There's nothing worse than a company that is not open and honest about their process. When you're having an HVAC disaster, you need someone who is open and clear about their services, fees, and other details.
Transparency on the part of your HVAC company is essential in order to ensure that you're not overpaying for the services and products you're receiving.
3. Professional Etiquette
Imagine you call for an emergency repair and then have to worry about the technician who shows up being disrespectful, late, or sloppy in their work. This is not a situation you ever want to be in, which is why it's important to find a company like Triad Mechanical that pays attention to professional etiquette.
The way a technician interacts with you can make or break the experience for customers. You should look for an HVAC company that offers friendly and professional service to ensure a positive experience.
4. Honest Pricing
A quality HVAC company should be honest and upfront with the pricing they offer. This allows customers to make informed decisions when it comes to their HVAC needs, ensuring that they get the best deal for their money. When they receive an honest estimate, they'll be able to plan financially, and they'll know they can trust the HVAC company in the future.
No one likes hidden costs that come back to bite them in the end.
5. Quick Response Time
When it comes to HVAC issues, time is of the essence. A quality HVAC company should be able to respond quickly and efficiently in order to ensure that your issue is resolved as soon as possible.
Without a company that responds accordingly, you risk the following:
Higher repair costs

Reduced efficiency of your HVAC system

Greater risk of further damage
Triad Mechanical Has it All
When it comes to 24 hour HVAC repair, transparency, professional etiquette, honest pricing and quick response time, Triad Mechanical has what you need. No need to pick just one when we cover it all!
At Triad Mechanical, we promise to:
Provide 24/7 emergency repair

Offer honest and transparent pricing

Respect your home while providing friendly service

Give you a quick response to address your HVAC needs
So don't wait any longer, contact us today and get back to living in comfort. We'll take care of the rest with our 24 HVAC repair services!